Today, we're happy to announce the release of our book The Hunting Ground: The Inside Story of Sexual Assault on American College Campuses. This companion piece tells the story behind the film and takes a deeper look at the epidemic of sexual assault on our nation's campuses. You will find compelling essays by leading experts; learn more about the Florida State University rape case and what may have led the University to settle with the victim; and read about the filmmakers' strong defense against a smear campaign by professors at Harvard Law School. You'll learn about institutional cover-ups, fraternity culture, the lengths to which many universities have gone to defend their star athletes, and the brutal toll on victims and their families. You will find gripping personal stories by survivors of sexual assault and guidance on how to learn more and raise your voice to combat this issue. Like the film, the book is a call to action to students, to parents, and also to teachers. As writer and professor Roxane Gay states in her essay: "If we do nothing to try to address sexual violence on the campuses where we teach, we are, with our silence, issuing permits for sexual predators to roam freely on the hunting grounds of our campuses."
About The Hunting Ground
The Hunting Ground is an award-winning documentary that calls out universities on sexual assault policies that protect their brand instead of their students. The film depicts a chilling climate that shields star athletes and silences victims. Because of the film, real change has been underway. With more than one thousand screenings on college campuses, and viewings at the White House, the Department of Justice, and before other seats of power, more people are aware of this problem and thinking about solutions. Governor Andrew M. Cuomo of New York established a new bill aimed at stopping sexual assault on New York's college campuses; the University of California launched a mandatory comprehensive program for students at its colleges; and outrage by public figures such as Vice President Joe Biden is forcing public discussion. At the Academy Awards ceremony, just before Biden introduced Lady Gaga to sing the film's theme song "Til It Happens To You," he spoke of changing the culture so that no abused woman or man is ashamed to speak out. This is all good news—yet vital, systemic change lags in fraternities, athletic programs, and the offices of college presidents, many of whom refuse to acknowledge the problem and address it.
About the Authors and Editor
Amy Ziering and Kirby Dick are award-winning filmmakers whose documentary, "The Invisible War"—about rape in the military—sparked a similar national outcry, winning two Emmys, a Peabody, an Academy Award nomination, wide acclaim in the press, and guest appearances on such shows as Jon Stewart's Daily Show and Bill Maher's Real Time. "The Hunting Ground," which premiered at the Sundance Film Festival early In had its national television premiere on CNN that October.
Constance Matthiessen (editor) is a writer and editor who lives in San Francisco. Her work has appeared in the Washington Post, the San Francisco Chronicle, San Francisco Magazine, Mother Jones, The Nation, and other publications.
Contributing essays by Amy Herdy, Kamilah Willingham, Roxane Gay, Andrew O'Hehir, D. Watkins, Christine Asquith, Jessica Luther, Alissa Ackerman and Caroline Heldman, Erin Ryan, Wendy Levy, Diane Rosenfeld and Lisa Knisely.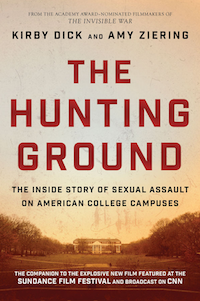 Buy the book on Amazon